"Carly, I thought that being in love would make everything perfect. I totally ignored reality. Come to think of it, I don't even know what love is. I'm sorry, I can't. Just now, I wanted to run away... I'm ashamed of my irresponsible behaviour... I'm sorry that I'm not even fit to be your friend... I'm sorry that I'm a coward... I'm sorry..."

—
Jacob
to
Carly
in
More Than Friends: Feelings
Jacob is one of Richard's classmates (class 6B) and the boyfriend of Carly. He made his debut in More Than Friends: Feelings.
Biography
Early Life
Jacob's early life is currently unknown.
More Than Friends: Feelings
Appearance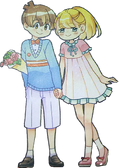 Jacob is a 12-years-old boy below average height. He has pale brown hair in a bowl-cut, brown eyes and button nose. Similar to almost all the other characters, Jacob changes his wardrobe on a regular basis, but the clothes that he wears consists of different shades of blue (oppose to Carly whose clothes consist of different shades of pink).
Personality
Unlike his snooty girlfriend Carly, Jacob is a polite, diligent and well-mannered 12-years-old. He was willing to obey the school rules after getting caught dating by Mrs. Lawson and initially broke up with his girlfriend Carly. Jacob was shown to be rather sociable as well, as despite him spending more time with his girlfriend than his friends, he managed to sort out time to hang out with them.
Jacob is also rather stubborn at times, as he single-mindedly broke up with Carly via phone messaging, thinking that he should spend more time with his friends (before getting forced to apologise to Carly by Richard). Jacob could be much of a coward, this was displayed when Jacob easily got unnerved by Richard when he swiftly chided him and showed him his signature glare.
Relationships
Friends
Candy JEM
Richard
Love Interests
Carly
See Jaly.
Other Media
Candy Cuties
Jacob along with all the other characters of Candy Series are featured in the Spin-off Candy Cuties Series. Jacob appears in:
Trivia
References