"Fashion design is about the designer's creativity, not the price of the materials! A designer who's blinded by the pride over the cost of her materials won't be able to be truly creative!"

—
Iris
to
Lily
in
Style with Substance: Savvy
Iris
 Alias(es)
Miss Iris
 Nationality
Malaysian
• Characteristics•
 Gender
Female
 Hair Color
Light blonde
 Eye Color
Gold
• Professional Status•
 Occupation
Fashion Designer
University Student
• Personal Status•
 Status
Alive
 

Civil Status

Single
 Allies
Candy JEM, Charles, Corey, Anthony, Alex
 Enemies
Lily, Sofia
• Others•
 Like(s)
Fashion designing
 Dislike(s)
Lily
 Alignment
Good
 Goal(s)
To study in Milan (succeeded)
• Debuts•
 Comics
Style with Substance: Savvy
Iris is one of the main characters in Style With Substance: Savvy. She is a Fashion Design Student formerly studying in a local college for Fashion Designers and is now studying in Milan, after winning a fashion design competition with the help of Candy JEM, Alex, Corey, Anthony and Charles.
Biography
Early Life
When studying in her fashion design school, Iris happened to witness her classmate, Lily buying designs from other people. Knowing that her actions are considered as cheating, Iris reported Lily's severe wrong doings to the headmaster of the school. Hence results in repeating another year for Lily as punishment.
Ever since then, Lily develops hatred towards her classmate and vows vengeance by sabotaging her whenever possible; much to Iris' dismay.
Style with Substance: Savvy
Appearance

Iris is a lean, slender young woman of average height. She has gold color eyes and shoulder length hair that is light blonde in color.
Iris' main outfit consists of a blue and white country-styled dress, a thick aqua blue wristband and a pair of aqua blue heeled sandals that are decorated with white pearls.
Described by Emilia, Iris' fashion style is somewhat ironic as she is a fashion design student, and expect her clothing to be as stylish as the others in her school.
Personality
Relationships
Friends
Enemies/Neutral
Due to the fact that Lily is the wealthiest student in her class, Iris had always thought Lily to be snobbish. When she accidentally found out that Lily had been claiming clothing designs from other products as her own, she reported the incident to the professor and Lily was forced to repeat a year of college, which kick started the rivalry between Iris and Lily.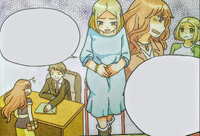 Not much interaction was seen between Iris and Sofia but since Sofia is a cousin of Lily, whom is Iris' rival, the two view each other as enemies.
Other Media
Candy Careers Card Game 2.0
Iris, along with many other characters, are depicted and designed in several cards as performing different types of occupations. She is designed as:
Trivia