Carly
 Nationality
Malaysian
• Characteristics•
 Gender
Female
 Age
11
 Hair Color
Blonde
 Eye Color
Blue
• Professional Status•
 Affiliation
Sacred Hearts Primary School
 Occupation
Student
• Personal Status•
 Status
Alive
 

Civil Status

Single
 Love Interest(s)
Jacob (ex-boyfriend)
 Allies
Jacob (ex-boyfriend), Candy JEM (former enemies turned allies), two unnamed friends of her
 Enemies
Candy JEM (former enemies turned allies)
• Others•
 Like(s)
Jacob, romances, TV dramas, bragging about her boyfriend
 Dislike(s)
People questioning her relationship with Jacob
 Alignment
Neutral, later good
• Debuts•
 Comics
More Than Friends: Feelings
Carly is a minor character of Candy Series. She made her debut in More Than Friends: Feelings. Carly is introduced as a preteen dreamer over romance her fixation on 'loving' her boyfriend, Jacob.
Biography
Early Life
Carly's early life is currently unknown. However, according to her classmate Charles, Carly was known for dating Jacob for a current period of six months. Prior to her relationship with Jacob, she held a deep interest towards romantic TV dramas.
More Than Friends: Feelings
Appearance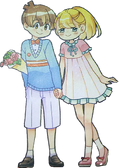 Carly is a petite 11-year-old girl with sky blue eyes and blonde hair which is tied up in a ponytail with a large pink bow leaving a small fringe on the center covering her forehead. Like almost all the other characters, Carly seemed to switch clothes on a regular basis but most of her clothing consists of different shades of pink.
Personality
Relationships
Friends
Unnamed Friends
Two girls were shown approaching towards Carly when they saw her on their way to school. They were displayed a warm impression towards her. There are assumptions that the two girls are reunited friends of Carly; were once friends of hers before her affair with Jacob that puts them off.
Candy JEM
Due to the fact that the trio were against Carly's love affair with Jacob, Carly showed a cold demeanor towards them. Candy JEM and Carly's relationship was limited to them being enemies. Despite Carly being fully aware of the reality of how her puppy love with Jacob has corroded her friendship with a few of her classmates when Candy JEM (particularly Mia) brought that up, Carly still remained reluctant in listening to them. Carly did not even hesitate in publicly expressing her suspicions of Candy JEM's interest to the different male students (Joni with Charles, Mia with Richard and Emilia with Corey respectively) whom she paired up with, not bothering in caring the trio's feelings.
When Carly was forbidden from dating Jacob after finally coming to her senses in following the school's rules, she was rendered friendless as she walked to school alone. Candy JEM then sought to accompany Carly out of sympathy -or at least pity- on their way to school, but in the end did not after spotting two of Carly's classmates approached her and befriended her.
Love Interests
Jacob
See Jaly.
Other Media
Candy Cuties
Carly along with all the other characters of Candy Series are featured in the Candy Cuties Series. Carly appears in:
Trivia
References