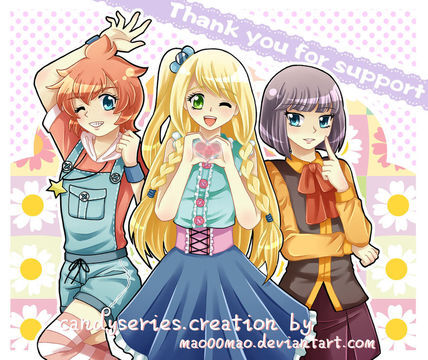 A wiki dedicated to everything about Candy Series by Kaoru and Dreamerz. This wiki aims to archive Candy Series related material. Please help us by creating or editing any of our articles! We are currently editing over 294 articles on this wiki.
Do read our local Policies before contributing to our wiki. Any questions or queries, do contact our Admins, Chat Moderators or Discussion Moderators.
Featured Article
Influences on the Candy Series

---

A list and record of all the influences and inspirations that Kaoru, Dreamerz and Candy Factory had taken to create the series. From Japanese Anime to Disney, to various genres like Slice of Life and Romance. Do come and visit this article~!
Recent Book
Believe in Yourself: Life Skills

---

The new school year has begun, and Joni, Emilia, and Mia are now in Year 6. Their class needs a new monitor, and everyone is encouraging Emilia to accept the role. Emilia, however, is hesitant because she is still troubled by what happened in the past. Can Emilia get over her self-doubt? Will she agree to become 6A's class monitor?
Recent Blogs
What do you guys think about Richard's home life? Is his mother really a mistress, or is it simply a rumour? Either way, who is his father and what happened to him? What made Richard into the "dark prince" he is now?